Kim Wheeler does it again in "Jonny Plumb and the Silver Flying Arrow Space ship"
By by Kim Wheeler
Jonny Plumb and the Silver Flying Arrow Space Ship - carries straight on from Jonny Plumb's last incredible adventures with the Silver Flying Arrow Space Ship, the fastest machine ever built, which takes Jonny on even more incredible jaw-dropping adventures.
Jonny Plumb and the Silver Spaceship is Book 2 in The Adventures of Jonny Plumb Series. It continues Jonny's last incredible adventures Jonny Plumb and the Golden Globe, with the Silver Space Ship called The Silver Flying Arrow Space Ship. The fastest machine ever built, The Silver Flying Arrowtakes Jonny on all kinds of incredible, jaw-dropping adventures.
Read in amazement as Jonny Plumb's continuing battles to capture the evil Gnud Repeek and return him to the prison planet of Suproc, where the Gnud Repeek will be tried for all his dastardly crimes against humanity.
Join Jonny Plumb and all his sea-life friends in his new adventures, swimming, singing and almost too much parping and splashing below the waters of Jonny's bath and then travel flying at twice the speed of light across the universe to visit Jonny Plumbs space home Pashoo.
Be stunned as Jonny struggles to save humanity, the Earth, the Oceans and even his own space parents home in the Sombrero Galaxy from a fate worse than death and then be amazed at what Jonny discovers at Area 51 where he discovers and frees Cosmos the only surviving alien from the Roswell crash.
Meet Professor Ziad who works for the highly secretive organisation known as C.I. L. I. S.O.D. and his mad as a bat wife, Philomena Flatulent Fudge-Bucket.
So join in and relish the new exciting adventures with Jonny Plumb and all his friends, not forgetting his two most fearsome and loyal companions Legend and Legion, the largest Rotweilers known to man.
Kim Wheeler has won awards for his Jonny Plumb series including "Jonny Plumb and the Golden Globe" and "Jonny Plumb and the Sombrero Galaxy." He has also written "Battle Scarred Journey," the story of his life from abandonment by his mother to his long road to recovery and the dogs who helped him. For more by Kim Wheeler go to www.totalrecallpress.com or amazon.com.
Writers Biline: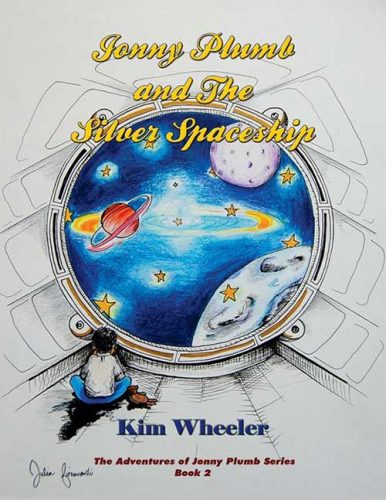 Writer Name : by Kim Wheeler
Writer Bio : Kim Wheeler was born at University College Hospital, London in 1954 and was promptly abandoned by his birth mother. He was then taken into care by the local authority and moved south of the river to a children's home in Lewisham where he spent the next five years. He was eventually fostered and adopted aged six and moved to Pinner, and at the age of eleven was sent away to attend a boarding school leaving aged fifteen, with few qualifications. Over the next thirty years he suffered from several physical injuries, survived meningitis and, finally disabled with an incurable spine injury, was ordered to cease all types of manual work. Mental health issues and complete breakdown soon ensued. You can read all about this in his soon to be republished book 'The Battle Scarred Journey' and his free eBook 'Rescue Dogs Rescue Man' which can be seen on his web page www.kimwheeler.co.uk - the proceeds from just Rescue Dogs Rescue Man have been donated to charity. Kim is also a self taught photographer, a writer of over one hundred published poems and prose, a dog trainer and dog rescuer. He has also learnt to play the guitar, but sadly the sound he makes resembles a horse eating shreddies. Despite being battle scarred he refuses steadfastly to be beaten by any of the many trials and continues to face daily battles with all the physical pains without complaint. Through the love and the walking of his rescue dogs, attending the gym and writing he has found contentment in his varied life that seemed almost unattainable many years ago...
Supporting Graphics: