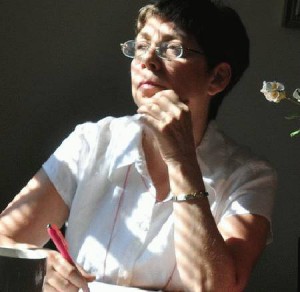 travels in the same groove
from mailbox down tar to Highway 5.
Ritual meanderings past tree and bush
and bark mulch strewn to hinder weeds.
Nothing like confronting New York concrete
wending through a flood of bodies,
slogging swiftly from one peculiar block
with its spicy Asian smells
to yet another clump of high-rise condos
odorless, prim, reluctant.
Endless waves of horns
psychedelic stares from the millions,
wild never-ending change.
Nothing like the waft of fresh-mowed grass
the sweep of tame, blue sky
and the fine, subtle nuance
of Georgia.
(For more poetry by Alice Shapiro and "Life: Descending/Ascending" go to www.totalrecallpress.com or www.amazon.com.)