Author Dr. Jeff Lovell Addresses Many Issues of Relationships in His Mystery Novel "Emerald" Including Trust and Spousal Abuse
Emerald
"I want to be sure people understand something more about the significance of marriage, and not to rush into a marriage for the wrong reasons."
People said that nobody escaped alive from Blackbeard's Queen Anne's Revenge, yet one of his wives, Prudence Lutrelle, manages a daring escapes and survives. She leaves the ship bearing a beautiful Emerald necklace. Many years later the necklace gives her descendant, Anna O'Neill, a hint at recovering the treasure of Blackbeard. Anna, accompanied by her life time love Casey, travel to a remote island in North Carolina to search for the treasure with which she will ransom her daughter, kidnapped by her husband in a daring insurance fraud plot. Anna's husband, in desperate financial straits, has engineered a scheme to follows them to the island, intent on killing his wife, Casey, and their seventeen year old daughter and making away with the treasure.
Emerald begins with a pirate assault on a merchant vessel. Blackbeard, or Edward Teach, terrorized the east coast of America from Nova Scotia down to the Virgin Islands. This book shows how people with a unique mental power called the Knack fight against the evil of pirates from 1715 to the present day. It even includes a long look at the court of King Arthur and his chief adviser Myrthynne, who also had the most powerful manifestation of the Knack. This book, then, flows in several time periods and pulls together romance, villainy and a dramatic treasure, all of which frame a love story between a woman with the Knack and a man devoted to loving and protecting her.
Founded in 1999, TotalRecall Publications, Inc. publishes non-fiction books in a variety of fields, including computer and financial certification exam preparation and library education, with many titles adopted as college texts. These titles are also distributed to libraries, corporations and government agencies via ProQuest, EBSCO Publishing, Books24x7.com. The company founder, Bruce Moran, is a former NASA IT professional and school computer instructor who started TotalRecall to produce exam prep guides to accompany his pioneering BeachFront Quizzer computerized practice test engine. The Quizzer CD was licensed for inclusion in the computer certification study guides produced by such publishers as Wiley and McGraw-Hill. TotalRecall is located in Friendswood, Texas, near Houston, and distributes books through Ingram Book Company, American Wholesale Book Co., Amazon.com, Barnes and Noble, Books a Million, Hastings, Powell's ProQuest, EBSCO Publishing, and other booksellers. For more information, call Bruce Moran at 281- 992-3131 or visit http://www.TotalRecallPress.com.
Somewhere on St. Margaret's lies Blackbeard's treasure, and you must follow a map that no one has ever deciphered to find the riches.
Dr. Jeff Lovell believes truth and truth telling have to be the basis of intimate human behavior and relationships. He uses the relationships in his book "Emerald" to show examples of good and bad rel
Writers Biline:
Author Name : Dr. Jeff Lovell
Author Bio : Jeff Lovell is a native Chicagoan, with 3 degrees from the University of Illinois and an earned doctorate from Vanderbilt University. Jeff taught high school writing and literature for thirty-three years and sponsored the school paper, Student Council and several other activities. He ran the drama program at two high schools, teaching and directing and designing sets, lighting and costumes. His specialties in his career included Shakespeare, British Literature, and Writing as well as Computer Science. Since he retired from education, Jeff has served as a theater and film critic for a television station and appears frequently to review theater and literature. Other books of his include "Acid" and "The Coven of the Spring."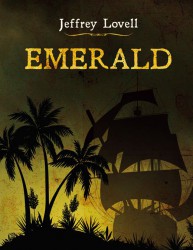 Format: Print
Pub Date: Jan 01, 2015