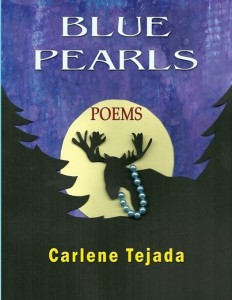 stares at the shiny new car, a gift
from her 20ish grandson, because
her old car just turned 10.
"Why?" she asks with a shrug,
a restless halo of short white curls
bobbing around her head.
"My old one drives just fine."
Then my 30ish son replaces
the chunky 12-year-old TV and VCR,
hogging a corner of my living room,
with a state-of-the-art slim screen TV
bearing a "you can't do without it" DVD slot.
"Why?" I ask with a shrug,
adjusting my own unruly halo.
"My old one works just fine."
The boys ruffle our halos
with wide hands, wave good-by,
and leave us with our new toys.
(For more poetry by Carlene Tejada and "Blue Pearls" go to www.totalrecallpress.com or www.amazon.com.)