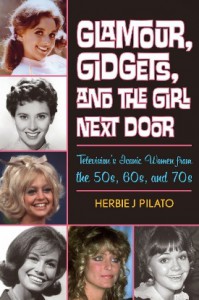 Glamour, Gidgets, and the Girl Next Door is the latest creation from entertainment biographer and pop culture consultant Herbie J Pilato. Based on exclusive celebrity interviews, Glamour, Gidgets, and the Girl Next Door book runs the gamut of female television legends, from the iconic Mary Tyler Moore to the stars of the original Charlie's Angels.
Donna Douglas is an honest-to-goodness Southern Belle who displayed a heart-breaking natural beauty in playing her most famous TV role as the hot, hollering, rope-wearing, whistle-happy, and critter-cuddling Elly May Clampett on the hit CBS TV classic, The Beverly Hillbillies, a country comedy which originally aired from 1963 to 1971.
"Donna Douglas as Elly May was just beautiful. You just loved her…and loved everything she said…whether it was to Jethro (Max Baer), Uncle Jed (Buddy Ebsen), or Granny (Irene Ryan). She didn't overplay the part. She played Elly May like she was indeed Elly May. Her body was gorgeous – and when she wore those clothes…she wore them realistically…and gave the impression as if she really did come from the hills…but country living. She just looked natural in the role…she looked innocent and sweet and you wanted to know her. And everyone always remembers Elly May. And it's important to remember that anytime there was a similar female look in a movie like Smokey and the Bandit – and even in a TV show like The Dukes of Hazzard, there were all trying to copy Elly May…the daisy dukes short-shorts, etc. Donna Douglas created a look with Elly May that many tried to recreate over the years but were never able to do it"
Without a doubt, Douglas as Elly May became one of the first female blond icons in TV history, shortly after Joan Sothern on her same-named series (CBS, 1958 -1961), and just prior to Elizabeth Montgomery's first twitch on Bewitched (which debuted on ABC, September 17, 1964) and Barbara Eden's initial blink on I Dream of Jeannie (NBC, September 1965), and a decade or so before Farrah Fawcett on Charlie's Angels (ABC, Fall 1976) and Suzanne Somers in Three's Company (ABC, January 1977).
Born and raised in Pride, Louisiana (today a Baton Rouge suburb, then timberland) and, after graduating from the local high school (now known as Redemption High), Donna went on to win, unsurprisingly, more than a few beauty contests. She also pursued a cross-country acting career from New York to Los Angeles, making several sexy TV guest appearances on shows like Dr. Kildare, 77 Sunset Strip, Route 66, Surfside 6, The Defenders, and more.
A particularly memorable and non-Hillbillies, stand-out performance was her quite visual take as the conflicted Janet Tyler in "Eye of the Beholder," a fan-favorite segment of Rod Serling's The Twilight Zone (CBS, 1959-64).
In "Eye," which originally aired November 11, 1960, Donna's Tyler lived in some future time – on some Earth-like planet where, upon first we meet her, she's already undergone several experimental surgeries to alter her looks, enough so to fit in with society. The story twist, a Zone benchmark was that, to us – the viewer – her appearance was more than acceptable. In fact, she was exceptional looking. But not to her fellow citizens, whose faces were presented as pig-like (with make-up designed by John Chambers who, in 1968, won an Oscar for the similarly-designed facial applications on display in Planet of the Apes, the script for which Zone's Serling had adapted from the novel by Pierre Boulle).
Douglas brought a specific sincerity to every role, including the Twilight performance as Tyler. Although she did not speak a line of dialogue in the Zone segment (Tyler's voice was provided by Maxine Stuart when the character's face was fully bandaged), once unmasked, Donna's eyes delivered varied forms of expression. It remains an appearance that's garnered quite a following over the years. "People ask me about Janet all the time," she says. "Rod Sterling was a dear man, and I enjoyed working on that show. It was really my first only dramatic part, and it was rather easy." Ironically combining her real-life slang with that of Elly May's, Donna concludes of playing Janet Tyler, "She was just so disappointed in how she looked. She just wanted to be the same as everyone else – and we all feel that from time to time, I reckon."
"I'm amazed at the huge following with The Twilight Zone. People bring photos and masks to [sci-fi/classic TV] conventions. They dress up as the characters. After all these years, it's something else."
Soon after "Eye" aired, Douglas won the role of Elly May on Hillbillies, and her female TV icon status was born – years after her own actual birth – into a real life which, in more ways than one, mirrored Elly's fictional existence. Douglas explains:
"Elly just had a good sense of family, knew right from wrong, she had the same upbringing that I did, back then you had respect for your parents, elders, community, We had the same values, morals, and love of critters. They are like children, they can sense whether a person is sincere, they are a good judge of character!
We lived so far out in the country, back of a dirt road; my mom would place me and my brother in a horse and take us to our grandparents that way. Eventually, we moved into town, Baton Rouge, where I graduated high school. I was the only girl in my family, an older brother and all male cousins, so I grew up a tomboy, swinging from vines, swimming and playing softball, I was getting ready for Jethro (as played by Max Baer on Beverly) long before we ever met!"
As to Donna's response to being named an icon, she says:
"That's a funny word to use on oneself. I never had any desire to be an actress, just a wife and perhaps a mother; those were my thoughts growing up. I only had a pinch of modeling back home prior to leaving for New York. Once there, I slowly built up my portfolio book with photos; got a job here, a job there…illustration modeling, products. I knew I didn't want to be a fashion model."