Hitler's Invasion of Greece Islands and Allies' OSS Unit Run by "Wild Bill Donovan" Portrayed in New Military Novel 'War and Destiny' by Air Force Author George Mavro
War and Destiny
""Told in the finest tradition of Eric Ambler and Ken Follett. You won't be able to put down this page-turner..... a classic."--John J. Gobbell, Author of 'Call to Colors' and 'Edge of Valor'""
TotalRecall Publications announced today the publication of 'War and Destiny,' a new historical, military adventure novel by retired Air Force author George Mavro. The story is set during Hitler's strategic drive through the Balkans and Greece to reach the rich oil fields of the Mid East.
Over 30 historic photos of Nazi and British soldiers, paratroopers, planes, and ships in and over Greece give an authentic feel to the story. The novel gives fascinating insights into an often neglected part of World War II history.
Mavro uses his military experience in the Balkans and knowledge of the region from advanced degrees in Government and International Relations to immerse readers in the gritty realism of the struggle for the Greece Islands during 1940-1941. His young protagonist also gets action in the daring intrigues of "Wild Bill Donovan's" Office of Strategic Services (OSS), the forerunner of today's CIA.
The story opens as the young New Yorker, Markos Androlakis, visits the island of Crete in the summer of 1940 for a sabbatical. Unwittingly, he puts himself on a trajectory to test the fates of destiny. War engulfs the tiny peaceful nation of Greece, and the Greek army does its best to hold off Italy's Fascist hordes. Markos soon finds himself on the Greek and Allied side of the war while he fights for survival and for the liberation of his ancestral homeland.
On May 20, 1941, Germany launched Operation Merkur (Mercury), the largest airborne invasion in history, to capture the strategic island of Crete from the Allies. Markos is tasked by the Allied commander to help evacuate the Hellenic King to the island's south coast for transport to safety by the Royal Navy.
Meanwhile, unbeknownst to Markos, the Nazi Reichsfuhrer Heinrich Himmler has dispatched a ruthless SS officer, Georg Mueller, to capture the King and return him to Germany. Markos manages to evacuate the king and journeys to Egypt. In Cairo he's recruited into the US army and the COI – which would soon become the OSS, Office of Strategic Services, under the leadership of "Wild Bill Donovan." Markos returns to America to help organize a cadre of Greek American agents to help the Greek resistance fight the ruthless and bloody Nazi occupation.
War and Destiny is available in hardcover, paperback, and Kindle editions from Amazon.com , Barnes & Noble, Books-a-Million, and other booksellers. The book is a prequel to two books in his series: 'Operation Medina: The Jihad' and 'Operation Medina: The Crusade,' both also available from Amazon.com.
TotalRecall Publications Inc. was founded in 1998 by Bruce Moran, a former NASA IT professional who transitioned into computer instruction and educational materials. The company began with the introduction of study guides and Q&A testing software for various computer and financial certification exams and expanded into library and information science textbooks in 2007. Since 2008, the publisher has been developing a fiction product line by debut authors that focuses on mysteries, thrillers, and military action. Additionally, TotalRecall has expanded into general nonfiction and now publishes more than 200 non-fiction and fiction titles, all distributed worldwide through book retailers and wholesalers and via eBook databases such as ebrary, EBSCO, and Books24x7.com. http://www.totalrecallpress.com
A historical novel of war, adventure, intrigue, and love set during the struggle for control of Greece and Crete by Axis and Allied forces during 1940-41.
Hitler's strategic drive through the Balkans, invasion of Greece, and historic air strike on Crete provide the gritty settings for 'War and Destiny,' a new WW2 action/adventure novel. Using 30 historical photos, George Mavro draws on his Air Force service in Greece and advanced degree in International Relations to immerse readers in the region and its joint efforts with Allied forces to resist Nazi takeover - and experience the intrigues of serving in "Wild Bill Donovan's" daring and innovative OSS, the forerunner to today's CIA.
Writers Biline:
Author Name : George Mavro
Author Bio : George Mavro draws on experiences gained during 24 years of Air Force Security Force assignments while stationed overseas, as well as his interest in international affairs to create a series of WW2 novels set in the Balkans and Greece Islands. His debut book, 'Operation Medina: The Jihad' and it's sequel 'Operation Medina: The Crusade ' were both published in 2011 by TotalRecall Publications. Readers of action/adventure books will appreciate his unique style of intrigue and attention to military details. Retired from the Air Force with an advanced degree in International Relations, Mavro has held several teaching positions at the university level and currently teaches for a junior college.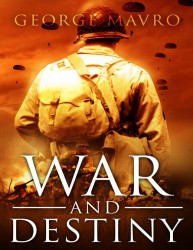 Format: Print