It's been 20 Years since the passing of beloved Bewitched star Elizabeth Montgomery
Twitch Upon A Star: The Bewitched Life and Career of Elizabeth Montgomery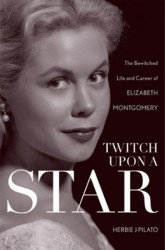 "www.twitchuponastar.blogspot.com www.essentialelizabethmontgomery.blogspot.com www.herbiejpilato.blogspot.com"
May 18th will commemorate the 20th Anniversary of Elizabeth Montgomery's demise (she would have turned 82 on April 15th), this on the tail-end of the 50th Anniversary of Bewitched's debut – and just as NBC readies the all-new Bewitched series.
Herbie J Pilato, author of Twitch Upon A Star: The Bewitched Life and Career of Elizabeth Montgomery, and The Essential Elizabeth Montgomery, and Glamour, Gidgets and the Girl Next Door (which also profiles Elizabeth) is now available for all interviews to commemorate the occasion.
Contact: (310) 480-0067 – HerbieJPilato@Outlook.com
Rowman & Littlefield of Lanham, MD announced today that it has acquired the assets of Gooseberry Patch of Columbus, OH. Gooseberry Patch will be integrated into Globe Pequot, the company's trade and specialty publishing group in Guilford, CT, which also includes Falcon Guides, Lyons Press, Down East Books, and Taylor Trade. Gooseberry Patch is best known for its homestyle family-friendly cookbooks.
"Heavily researched, expertly executed, and handled with reverence, Twitch Upon A Star is a magical revelation about one of the most popular and endearing performers of all time. It's clear that Herbie J Pilato not only knows what he's talking about, but that he also cares very deeply about his subject, from a personal, yet objective perspective... No two ways about it, this book is a class act about a classic actress." - Danny Gold, Film and Television Producer "I encourage everyone to read Pilato's astounding, loving, riveting, eye-opening book." - Lydia Cornell, star of classic TV's Too Close For Comfort, comedienne, and women and children's advocate "The way Herbie J Pilato tells it, Elizabeth Montgomery just didn't have guts, she had balls. She was kind to those she felt deserved it but had no qualms about setting others straight. Who'd'a thunk that sweet little Samantha had such chutzpah?" - Larry Brody, veteran TV writer and producer (Baretta, Diagnosis: Murder, The Fall Guy, and more) "Not only has Bewitched's Samantha Stephens influenced hundreds of female TV characters and the actresses who portrayed them, but Elizabeth Montgomery's lasting influence on Hollywood and society has been far greater than the TV series that made her a legend. Herbie J Pilato, one of the great students of classic TV, spins a compelling narrative that brings to life a magical TV series and it's even more magical star. It's a true Hollywood story, and more than any book I've read Twitch Upon a Star goes behind-the-scenes to capture a fascinating period in history when television was coming of age." - Jack Myers, Media Ecologist, Author and Producer "Intricately revealing, well written and hard to put down, Herbie J Pilato's Twitch Upon a Star captures the essence and life of Elizabeth Montgomery. He leads readers on an intriguing journey into the loves, politics and performances of this multi-talented actor - a very magical journey, yet based in the real emotion of love. I heartily recommend this well rounded read for fans, friends and all who value the life of a gifted, complex and bewitching woman." - Kathy Garver, film, TV, and stage star (Cissy on the classic Family Affair TV series); author, The Family Affair Cookbook and Surviving Cissy; speaker. "Much more than just a celebrity biography Twitch Upon A Star relays a spiritual quest that can speak to anyone. Retelling the story and work of a life can activate an awareness of the beauty and purpose in our own unfoldment. Pilato accomplishes this masterfully and magically, uncovering such depth and absorbing reflection with authenticity and vigorous charm to reveal Elizabeth Montgomery's journey as a true cultural treasure. This book is magnificent!" - Thomas Warfield, performing artist and founder of PeaceArt International "Elizabeth Montgomery's life is beautifully portrayed by author Herbie J Pilato in [this] loving ne
Twitch Upon A Star is based on Herbie J Pilato's exclusive interviews with Elizabeth Montgomery, who he befriended. May 18th will commemorate the 20th Anniversary of her passing.
Links to book resellers:
(1)
https://rowman.com/ISBN/9781630760250/Twitch-Upon-a-Star-The-Bewitched-Life-and-Career-of-Elizabeth-Montgomery#
(2)
https://rowman.com/ISBN/9781630760250/Twitch-Upon-a-Star-The-Bewitched-Life-and-Career-of-Elizabeth-Montgomery#
(3)
https://rowman.com/ISBN/9781630760250/Twitch-Upon-a-Star-The-Bewitched-Life-and-Career-of-Elizabeth-Montgomery#
(4)
https://rowman.com/ISBN/9781630760250/Twitch-Upon-a-Star-The-Bewitched-Life-and-Career-of-Elizabeth-Montgomery#
[likebtn identifier="CUSTOM ITEM NAME" theme="gray" dislike_enabled="0" icon_dislike_show="0"]