Michael Tabman blends mystery, suspense and action in his book "Midnight Sin.
Midnight Sin
"Midnight Sin is an exhilarating ride on that dangerously thin line separating cop and criminal. - Richard Kline, Television Producer"
Becoming a cop changes everything you thought you knew about life. Midnight Sin is an inside look at the dark and mysterious world behind the cop's badge. Rookie cop Gary Hollings quickly learns that wrestling street thugs and arresting drug dealers while trying to track down a serial rapist is nowhere near as tough as watching his back from his fellow cops. He must also fight his inner demons – ones that he never knew he had until he put on that police uniform. The police world is one of long hours and split-second decisions where the choices are not always clear. Midnight Sin is a gritty cop novel that explores the complexities of the cop psyche.
Founded in 1999, TotalRecall Publications, Inc. publishes non-fiction books in a variety of fields, including computer and financial certification exam preparation and library education, with many titles adopted as college texts. These titles are also distributed to libraries, corporations and government agencies via ProQuest, EBSCO Publishing, Books24x7.com. The company founder, Bruce Moran, is a former NASA IT professional and school computer instructor who started TotalRecall to produce exam prep guides to accompany his pioneering BeachFront Quizzer computerized practice test engine. The Quizzer CD was licensed for inclusion in the computer certification study guides produced by such publishers as Wiley and McGraw-Hill. TotalRecall is located in Friendswood, Texas, near Houston, and distributes books through Ingram Book Company, American Wholesale Book Co., Amazon.com, Barnes and Noble, Books a Million, Hastings, Powell's ProQuest, EBSCO Publishing, and other booksellers. For more information, call Bruce Moran at 281- 992-3131 or visit www.TotalRecallPress.com.
"After reading Tabman's first book, Walking the Corporate Beat: Police School for Business People, I could not wait to read Midnight Sin. Again, I could not put the book down. Midnight Sin is a crime novel that leaves you thinking about your hidden dark side." -- Steve Schussler, Founder of Rainforest Cafe, Yak and Yetti's and T-Rex at Walt Disney World, Orlando, Florida.
When a rookie cop walks on to the midnight shift, the lines between right and wrong become blurred.
Writers Biline:
Author Name : Michael Tabman
Author Bio : Author Michael Tabman was born and raised in New York City. He graduated from John Jay College of Criminal Justice in Manhattan, NY. After serving as a police officer for three years with the Fairfax County VA police department he joined the FBI. Michael is a 24 year FBI veteran investing all types of crimes.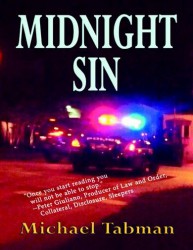 Format: Print
Pub Date: Apr 26, 2011