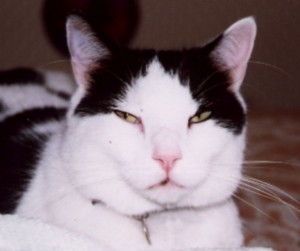 My Feline Friend
I am always amazed
At your incredible grace,
And at the contented look
Upon your face.
You're always grooming
Your lovely white fur,
And when I comb you
You can't help but purr.
You lived in your world
Solitary and aloof,
And if I call you
You don't care a hoot.
Because one thing I know
And that is a fact,
That you can never
Call a cat.
It will simply walk away
In complete and sheer disdain.
"I do what I please,
So don't call my name!"
And then I find
You are on my lap.
Do you love me?
Or just want a nap?
I watch as you slink
Through the long grass,
Creeping upon on a bird
Which flies away fast.
You prowl around
In an elegant manner,
You make no sound
Just wait for your dinner
And you wait
So patiently,
For me to feed you
Abundantly.
I think I know why
They worshipped you in style,
Those ancient Pharaohs
On the banks of the Nile.
There's something mysterious
Maybe even divine
About you. Oh cat,
I'm so glad you're mine.
But although you pretend
You really don't care,
When I am home late
You're always there.
Waiting on the doorstep
"What took you so long?"
You must be aware
That to me you belong.
Often you sit – eyes shut
Is it contemplation?
You look so peaceful
It must be meditation.
I love to watch you
Play in the sun
Roll around on the floor
As I tickle your tum.
When the sun sets
And it's time to go to bed,
You curl up near me
Oh, what a good friend!