Nite of Dreams and Herbie J Pilato present: THE FIRST ANNUAL CLASSIC TV PRESERVATION SOCIETY FUNDRAISER GALA
The First Annual Classic TV Preservation Society Fundraiser Gala
Nite of Dreams and Herbie J Pilato present….
THE FIRST ANNUAL CLASSIC TV PRESERVATION SOCIETY FUNDRAISER GALA…
May 22nd, 2016 * 4:00 PM
THE ANAHEIM WHITE HOUSE
Hosted by Kathy Garver ("Family Affair"
with special guest appearances from:
Sherry Alberoni ("The Mousketeers")
Angela Cartright ("Lost in Space")
Lydia Cornell ("Too Close for Comfort")
Stan Livingston ("My Three Sons")
Paul Petersen ("The Donna Reed Show")
with special musical performances by
Ron Dante ("The Archies") and Gloria Loring ("Days of Our Lives")
also featured from curator Barry Barsamian:
The Lucille Ball Collection
Cocktails * Reception * Dinner * Entertainment * Silent Auction
Black-Tie/Formal Attire
For more information:
www.niteofdreams.com
The Classic TV Preservation Society hosts its first fundraising gala!
Writers Biline: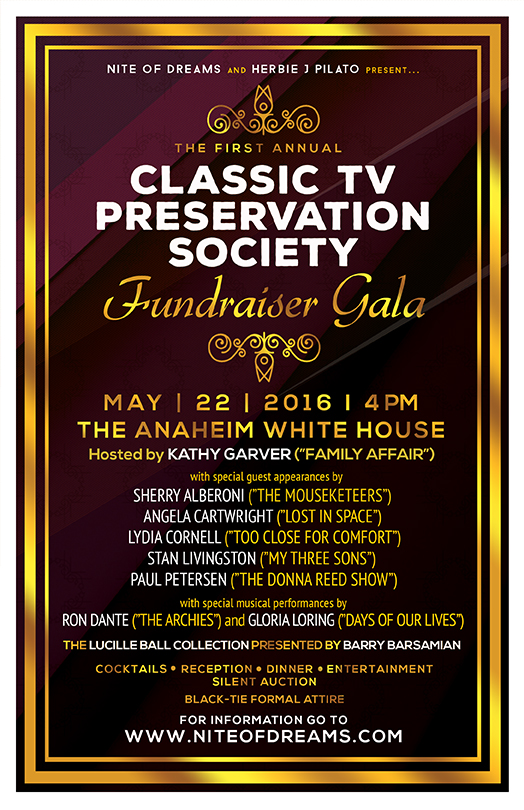 Author Name : Presented by Nite of Dreams and Herbie J Pilato
Author Bio : Herbie J Pilato is the writer, producer, actor and author, who has served as a cultural commentator for several television shows, including the TV Guide Network's 100 Greatest Moments of Television, Bravo's hit five-part series, The 100 Greatest TV Characters, Bewitched: The E! True Hollywood Story, A&E's Biography of Lee Majors, TLC's Behind the Fame specials on The Mary Tyler Moore Show and The Bob Newhart Show, and many others. He's also worked on various classic TV DVD documentaries for Sony, NBCUniversal, and Warner Bros., including The Six Million Dollar Man boxed set, Kung Fu, and CHiPs. Herbie J's list of top-selling, critically-acclaimed pop-culture/media tie-in books, include: Dashing, Daring and Debonair: TV's Top Male Icons from the 50s, 60s and 70s (Taylor Trade, Spring 2016), Glamour Gidgets and the Girl Next Door (Taylor Trade, 2014), The Essential Elizabeth Montgomery: A Guide To Her Magical Performances (Taylor Trade, 2013), Twitch Upon A Star: The Bewitched Life and Career of Elizabeth Montgomery (Taylor Trade, 2012), Bewitched Forever (Tapestry 2004/2001-Summit, 1996), The Bewitched Book (Dell, 1992), The Bionic Book (BearManor Media, 2007), Life Story: The Book of Life Goes On (BearManor Media, 2007), The Kung Fu Book of Wisdom (Tuttle, 1995), The Kung Fu Book of Caine (Tuttle, 1993), and NBC & ME: My Life As A Page In A Book (BearManor Media, 2008). Herbie J presides over Television, Ink. (a family-oriented TV, film and literary production company), and serves as Founder and Executive Director for The Classic TV Preservation Society (a nonprofit that helps to close the gap between popular culture and education). He resides in Los Angeles, CA, where he is developing his new classic TV talk show, Herbie J Pilato's Now & Then.