Richard Baran spins a tale of a dysfunctional man and his club filled with people who mirror his mind.
Where Have all the Go-Go's Gone?
"A ridiculed intellectual dreamer opens a 1960's retro disco and surrounds himself with an array of characters who put fun into dysfunctional."
Berthold "Bo" Pepperwall childhood began with friends taunting and teasing him, nicknaming him, Bo the Schmoe. Adulthood still had him laughed at by many and shunned by most. His home is Dogwood, the Pepperwall family mansion where he lives in a Spartan single room above the garage in a coach house. His sister, Arvia is married to Quintin Bell the mayor of Glen Forest on the Watercourse, the prestigious suburban community along Chicago's exclusive North Shore. Quintin Bell detests Bo's existence and enjoys making his life miserable. Then Quintin Bell dies in a most unusual way. Someone killed the powerful, lecherous mayor, a croquet mallet smashing his skull and Bo witnessed the murder.
Now Bo Pepperwall faces a dilemma: He has to choose between money (which he never had) and morals (which he also lacked). Bo faced another quandary of deciding whether to weasel part of his recently widowed sister's inheritance of fulfilling his latest dream, that of opening a 1960's discotheque in an abandoned factory building in a Chicago slum area or turn in the murderer?
Bo resolved his dilemma with convoluted logic which said, a killer is a killer, money is money and dead is dead. A torturous scheme to get his mitts on part of his sister's inheritance smoldered in Bo's mind and made his decision easy: Get the money first, then identify the killer and become a wealthy respected hero. Ergo: Dilemma solved.
Arvia Pepperwall Bell, merry widow and reluctant socialite found herself warding off the advances of her lawyer and late husband's best friend, John Brown. She had also succeeded her husband as the new village mayor, a political move elating the town's power brokers and the well-connected because now they had a Pepperwall in office they could manipulate for their personal gains. They failed to take into account one fact; Arvia Pepperwall Bell descended from more than the loins of the self-proclaimed Revolutionary War hero, General Glen Forest Pepperwall who founded Glen Forest on the Watercourse. She feared no one, especially men.
Glen Forest had been neither a hero nor a General. A frightened, cowardly seventeen year old slick sleeve private soiling his trousers had promoted himself to general. He stole the epaulets from a dead enemy officer before fleeing the Battle of Savannah with his pregnant, half breed Mulatto lover, Arvia. Glen Forest was a consummate scoundrel, liar, swindler, cheat and Lothario, characteristics of a perfect politician. He thought he had swindled the local Indians out of an expanse of land that became Glen Forest on the Watercourse. The Indians had sold him a swamp.
Arvia surprised Bo and her lawyer, John Brown by investing in her brother's idea of a discotheque. Bo wasted no time in converting her money into La Tinkerbelle's a Go-Go, a 1960's retro disco with a Peter Pan theme. His intricate plan knew no limits, lacked good taste and emphasized the garish and bizarre. Ideas, one crazier than the next, spewed from his creative mind. La Tinkerbelle's would feature traditional go-go dancers performing in cages suspended from the factory's ceiling. One of his star attractions would be billed as Captain Hookette. She would perform her belly dancing specialty in a show case window at the club's front entrance. He signed on two kindergarten teachers to moonlight as a pair of aerialists, Peter and Pan. Tinker Bell would be his featured attraction and the trio would swing from the factory's ceiling suspended by cables. He hired a bickering gay couple to operate the disco's boutique and came up with the idea of installing coin operated movie projectors in the Men's washroom stalls. He would charge a quarter to view a scene from a pornographic movie for twenty five seconds. His waiters and waitresses would be undercover Chicago Police Officers who invested in La Tinkerbelle's. Each would wear a pirate eye patch, one earring, a bandanna and roller skates.
Bo's greatest find was Sam and his two black cats, Heckle and Jeckle. He discovered Sam, a down on his luck former saloon owner put out on the street by Quintin Bell and John Brown. Sam lived in the deserted factory that would become La Tinkerbelle's. Bo hired him to operate the club's beverage service. He auditioned and signed on an octogenarian rock group he billed as, Cap'n's Kids and Obadiah Ledbetter, a sixteen year old red neck, hog calling champion from Arkansas and his common law wife, Emerine as the band's vocalists.
The plans of a genius fail and Bo faces bankruptcy. Then an intoxicated Chicago newspaper gossip columnist ran a story that had lines forming to get into the Windy City's newest night club sensation. Bo couldn't count his money fast enough as he savored his new found fame and fortune. Then part of his dilemma returned to haunt him. Life for the once loser and social outcast takes a surprise twist in this screwball murder mystery farce that is more farce than mystery.
Other titles by Richard Baran include "The Jacket" and "The Dutchman's Gift" and can be found at www.totalrecallpress.com or www.amazon.com. "When Will They Ever Learn?", book two of "Where Have all the Go-Go's Gone?", will be published August 4, 2015.
Founded in 1999, TotalRecall Publications, Inc. publishes non-fiction books in a variety of fields, including computer and financial certification exam preparation and library education, with many titles adopted as college texts. These titles are also distributed to libraries, corporations and government agencies via ProQuest, EBSCO Publishing, Books24x7.com. The company founder, Bruce Moran, is a former NASA IT professional and school computer instructor who started TotalRecall to produce exam prep guides to accompany his pioneering BeachFront Quizzer computerized practice test engine. The Quizzer CD was licensed for inclusion in the computer certification study guides produced by such publishers as Wiley and McGraw-Hill. TotalRecall is located in Friendswood, Texas, near Houston, and distributes books through Ingram Book Company, American Wholesale Book Co., Amazon.com, Barnes and Noble, Books a Million, Hastings, Powell's ProQuest, EBSCO Publishing, and other booksellers. For more information, call Bruce Moran at 281- 992-3131 or visit www.TotalRecallPress.com.
The Richard Baran's fascination with the societal changes that took place during the 1960's and 70's helped shape his ideas for "Where Have all the Go-Go's Gone?
Berthold "Bo" Pepperwall was a dreamer and a conniver. He was beyond intelligent, his IQ qualified him for Mensa; his doctorate earned at sixteen. Yet his life was filled with ridicule.
Writers Biline:
Author Name : Richard Baran
Author Bio : Richard Baran holds a doctorate and two masters' degrees besides his bachelor's in business. A Navy veteran, he taught and coached for forty years at the secondary school and collegiate levels. Other publishing credits include, Coaching Football's Polypotent Offense, a coaching text, a short story, "That Ain't No Walleye" and several dozen articles in professional business and education.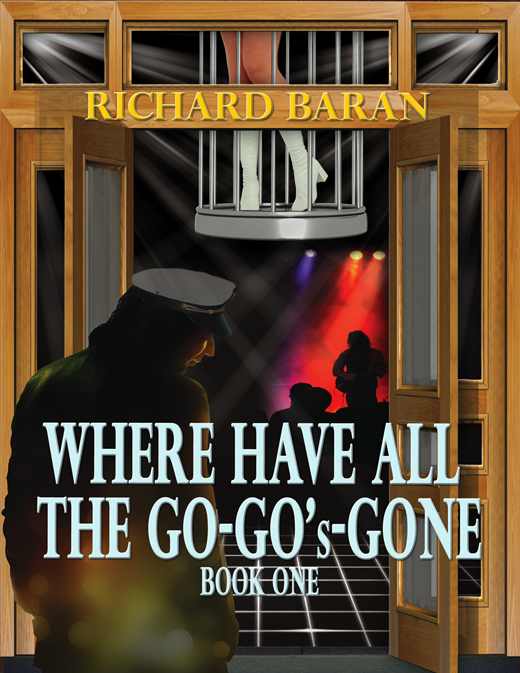 Format: Print
Pub Date: Aug 04, 2015