San Antonio Author Bob Doerr Releases His Sixth Title "Caffeine Can Kill" of the Jim West Mystery Series
Caffeine Can Kill
"Doerr does it again. This time the vineyards and rustic beauty of Texas Hill Country mask the sleazy underbelly of sexual trafficking."
This Jim West mystery, the sixth in the series, is set along the Texas Wine Trail in the scenic Texas Hill Country, and finds Jim in Fredericksburg to attend the grand opening of a friend's winery and vineyard."Caffeine Can Kill" finds Jim traveling to the Texas Hill Country to attend the grand opening of a friend's winery and vineyard. Upon arriving in Fredericksburg, Jim witnesses a brutal kidnapping at a local coffee shop. The next morning while driving down an unpaved country road to the grand opening, he comes across an active crime scene barely a quarter mile from his friend's winery. A Fredericksburg policeman who talked to Jim the day before at the kidnapping scene recognizes Jim and asks him to identify the body of a dead young woman as the woman who was kidnapped. Jim does, and as a result of this unwelcome relationship with the police is asked the next morning to identify the body of another murdered person as the man who had kidnapped the young woman. A third murder throws Jim's vacation into complete disarray and draws Jim and a female friend into the sights of one of the killers.
TotalRecall Publications Inc. was founded in 1998 by Bruce Moran, a former NASA IT professional who transitioned into computer instruction and educational materials. The company began with the introduction of study guides and Q&A testing software for various computer and financial certification exams and expanded into library and information science textbooks in 2007. Since 2008, the publisher has expanded into general nonfiction and now publishes more than 200 non-fiction and fiction titles, all distributed worldwide through book retailers and wholesalers and via eBook databases such as ebrary, EBSCO, and Books24x7.com. http://www.totalrecallpress.com
"Caffeine Can Kill" touches on all the vices: murder, theft, prostitution, and jealousy.
Jim arrives in Fredericksburg to attend the opening of a friend's winery but first witnesses a brutal kidnapping in a local coffee shop. When the victim is found dead, the race to find the killer begins. "Caffeine Can Kill" is Bob Doerr's sixth in the award winning Jim West Series.
Writers Biline: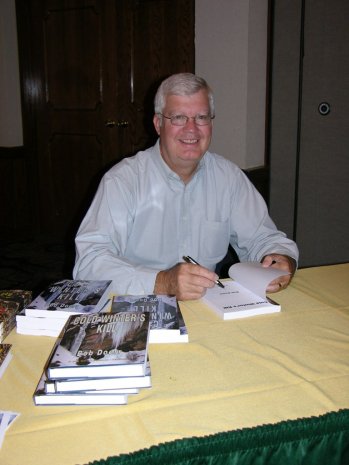 Author Name : Bob Doerr
Author Bio : Before becoming a full time author, multi-award winning author Bob Doerr specialized in military counterintelligence and criminal investigations for 28 years. His published works include five mystery/thrillers that have garnered a variety of awards and a novella for middle grade readers. A winner in the 2013 Eric Hoffer Awards, Bob was also selected by the Military Writers Society of America as its Author of the Year for 2013.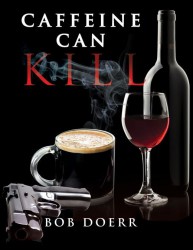 Format: Print