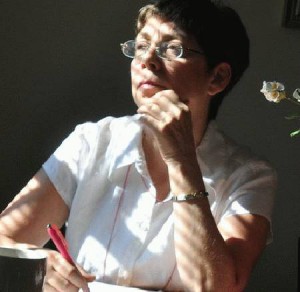 Stealing
snatching at the crumbs of genius
gifted to them.
She recognizes beauty
by its glow, by a mystic
knowing
and scribbles after them
like a bird imitates its mother's flight
as a bee feasting in a flower patch
prying out many mouthfuls.
Soon, she calls upon that hoarded cache
and her repertoire responds.
On a page a mighty thought –
built upon those juxtaposed, fragmented parts
becomes her mark.
It is fact.
(For more by Alice Shapiro's "Life: Descending/Ascending" go to www.totalrecallpress.com or amazon.com.)