Richard Baran tells a Touching Story of a Dysfunctional, Multi-cultural Family and One Man's Belief in Santa Clause in his Book, "The Jacket."
The Jacket
"A Family's secret artifact emerges into a new legacy."
Tidge Mackiewicz, new patriarch of his splintered, multi-cultural family, received a trinity of orders from his dying father, Kid Scream. One order stated for Tidge to quit believing in Santa Claus and stop acting like every day was Christmas. Tidge should also abandon his belief that the Luftwaffe shot down Santa Claus on Christmas Eve in 1944 and Santa survived. Tidge's father tried to hammer home his belief in family to his son, a last dying breath exhaling his command. "This screwed up family is yours now. Unscrew them."
Approaching fifty, Tidge still wears a scuffed and stained Army Air Corps flight jacket given to him as a young boy by his late uncle, Brew a Navy aviator and Korean War hero who claimed it belonged to Santa Claus. Uncle Brew also believed that the jacket possessed a special magic. Several years later, his father's orders remain unfulfilled. Tidge's multi-cultural family his father dubbed "The Natives" is still screwed up. Everyday is still Christmas for Tidge and his belief in Santa has never wavered.
Tidge and his second wife, Wilhelmina, who he calls, Willy moved from Chicago to an elegant log home on Lake Namakagon in Wisconsin's Nothwoods. To honor their second Christmas, Tidge suggests inviting their respective families for a holiday weekend in hopes of bringing peace to The Natives. Eighteen adults and children embrace the invitation. Tidge and Willy have planned for every contingency except a record blizzard and a surprise guest.
Tidge plans to play Santa Claus wearing an antique Santa Claus suit given to him by his Uncle Brew. As he removes the costume from a dilapidated box, he discovers four yellow, dog eared letters to Santa Claus, two faded dramatic snap shots from World War II and a poignant quotation from Immanuel Kant. It is the contents of the box along with The Jacket and the spirit of Christmas that has Tidge believing he finally has his special gift to carry out his father's orders. He discovers he needs more.
Founded in 1999, TotalRecall Publications, Inc. publishes non-fiction books in a variety of fields, including computer and financial certification exam preparation and library education, with many titles adopted as college texts. These titles are also distributed to libraries, corporations and government agencies via ProQuest, EBSCO Publishing, Books24x7.com. The company founder, Bruce Moran, is a former NASA IT professional and school computer instructor who started TotalRecall to produce exam prep guides to accompany his pioneering BeachFront Quizzer computerized practice test engine. The Quizzer CD was licensed for inclusion in the computer certification study guides produced by such publishers as Wiley and McGraw-Hill. TotalRecall is located in Friendswood, Texas, near Houston, and distributes books through Ingram Book Company, American Wholesale Book Co., Amazon.com, Barnes and Noble, Books a Million, Hastings, Powell's ProQuest, EBSCO Publishing, and other booksellers. For more information, call Bruce Moran at 281- 992-3131 or visit www.TotalRecallPress.com.
Richard Baran started his writing career when he was eleven with his review of the Namakagon Boy's Camp Variety Show.
A novel published by Total Recall Publishers. He has published a coaching text, Coaching Football's Polypotent Offense, a short story, "That Ain't No Walleye".
Writers Biline:
Author Name : Richard Baran
Author Bio : Richard Baran holds a doctorate and two masters' degrees besides his bachelor's in business. A Navy veteran, he taught and coached for forty years at the secondary school and collegiate levels. His publishing credits include Where Have All the Go-Go's Gone?, a novel published by Total Recall Publishers. He has published a coaching text, Coaching Football's Polypotent Offense, a short story, "That Ain't No Walleye" and several dozen articles in professional business, education and coaching journals. He and his grammar school sweetheart, Carol Ann, have twenty grandchildren and they divided their year between Franklin Park, Illinois; Phoenix, Arizona and Minocqua, Wisconsin. "The Jacket" can be found at Amazon.com, http://www.TotalRecallPress.com and many others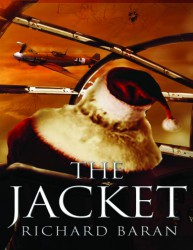 Format: Print
Pub Date: Sep 18, 2013