Total Recall Press announces the release of Jeff and Jacqi Lovell's latest Mouse Gate book, 'Marina and Dan".
Marina and Dan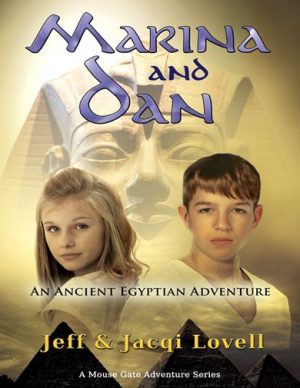 Jacqi and Jeff Lovell's latest MouseGate novel, Marina and Dan, combines the fun and excitement of Walt Disney World with a time travel adventure using a magic amulet into the world of ancient Egypt. This story traces the lives of the two main characters, Marina and Dan, who have been best friends since their early childhood years, as they wrestle with the concept of heroism and how it applies to them. When offered a unique, but potentially dangerous opportunity by a very unusual man who is able to appear and disappear at will, they must make a decision that will stretch them in ways they never imagined. Able to experience first-hand the miraculous events that have been talked about for centuries, they witness the impossible become possible as they walk with Moses during the ancient biblical era where the crossing of the Red Sea took place. Their adventures cause them them have to make choices; will they go down the path of adventure and danger, leading to heroism, or play it safe and return to their life as usual in their hometown of Geneva, Illinois? Their experience offers new insights into centuries old stories Marina and Dan have heard talked about and questioned. Both their friendship and their faith is strengthened through the adventures they encounter together.
Traveling back in time to an ancient world and a different continent to engage in acts of heroism cause the lives of two teenagers to be forever changed.
[likebtn identifier="CUSTOM ITEM NAME" theme="gray" dislike_enabled="0" icon_dislike_show="0"]